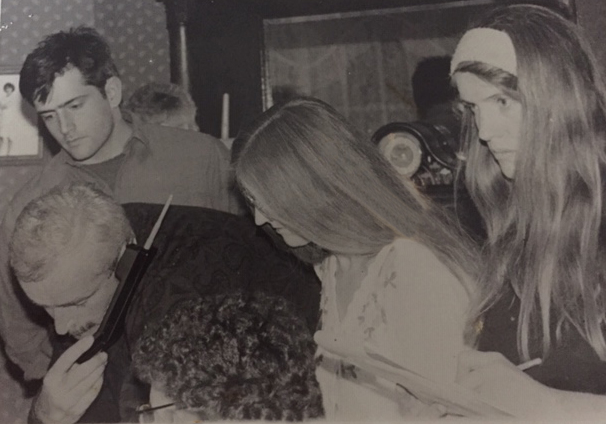 Schuyler's Own
Raised by a single mom in an old farmhouse on Matthews Road without plumbing or central heat, Dan has a deep rooted understanding of the challenges many families experience. Dan's mother, Janet Meaney raised her family to be advocates for community with an unwavering commitment to the well being of children.
Dan is the father of three adult children: Connor, Rowan and William and is grandfather to four year old Loel. Connor is a laborer with a local building company, Rowan is a recent graduate of SUNY Cortland and currently employed in the local restaurant industry. William is a sophomore at SUNY Geneseo, pursuing a degree in history.
Dan's mother's compelling story continues to serve as the guiding foundation for her children and grandchildren. Janet Meaney has served the Schuyler County community since 1966, providing compassionate care in the offices of Drs. Gardner, McCarthy, Norton, Tague and Eisman. Janet and her daughter Paula founded the Schuyler County Task Force on Child Abuse, the springboard to CASA. Janet married Donald Meaney, NYS Fire Academy Instructor in 1980 and later graduated from Cornell University. She earned her MSW from Syracuse University and was employed by Schuyler County Mental Health, providing counseling and guidance for hundreds of Schuyler County families. Don and Janie provided exemplary leadership and love for both family and community. Janet continues her community work via the protection of Seneca Lake.
Dan's sister, Paula Fitzsimmons is a Physician Assistant who is locally renowned for her expertise in women's health care. Paula is a graduate of Cornell University and Yale University. Paula is employed by Cayuga Medical Associates (partner of Schuyler Hospital) and is married to Phil Davis, grape farmer and founder and partner of both Hector Logging and Damiani Wine Cellars. They have two adult children: Hilary who is a consulting project leader and yoga instructor and Colin who is a partner in Hector Logging Company and grape farmer.
Dan's sister, Marie Fitzsimmons is a retired Watkins Glen school teacher who now works part time supporting people with disabilities and writing as a freelance journalist. Marie taught social studies , advised Interact and Student Council, and coached Track and Cross Country in Watkins Glen for over twenty years. Marie and her husband, local veterinarian Kirk Peters are Returned United States Peace Corps Volunteers who served in Lesotho, China, Namibia, and Rwanda. They have three grown children; Jores who is a United States Border Patrol Agent, Jared who is a local builder, and Sophie who is a United States Peace Corps Volunteer.
Dan's brother Bob Fitzsimmons is a retired education program counselor, coordinator and administrator who currently substitutes as a principal for Ithaca City Schools. Early in his career, worked for Schuyler Hospital and Camp Monterey. Bob and his wife Mindy, educator and musician have two children; Dr. Coveney Fitzsimmons who is a Schuyler County physician and Liam Fitzsimmons who is a United States Congressional Chief of Staff. Bob served nine years as a Schuyler County Legislator.
The Fitzsimmons Family is dedicated to the well being of Schuyler County.
Who is Dan Fitzsimmons?
Dan Fitzsimmons is the best qualified candidate for Schuyler County Judge. Fitzsimmons is the only candidate who has served as a Judge, having judiciously and fairly ruled on cases for the past eight years as Hector Town Judge. Fitzsimmons is the only candidate with the knowledge and experience in every realm of county law; having presided over cases of family, criminal, and property law. Fitzsimmons is the only candidate who has served our community for over twenty years in the Schuyler County courts. Fitzsimmons is the only candidate who has served nearly 2,000 Schuyler County children whose lives have needed the protection of the court system. Fitzsimmons is the only candidate to be appointed by NYS to teach child court case courses. Fitzsimmons is the only candidate born and raised in Schuyler County. He has a deep rooted understanding and unfailing respect of our community.
experience
Graduated with honors from Vermont Law School

1996 Founded Fitzsimmons Law Firm, handling child protective cases, civil rights litigation, family law and criminal and civil litigation for 22 years.

2000 Founded the Schuyler County Law Guardian Office, representing the best interests of the children of Schuyler County. Appointed by Appellate Division of NYS Supreme Court.

Wrote Continuing Legal Education training curriculum for New York Attorneys in multiple areas of Children's Law including Special Education, Family Law and Trial Evidence. Personally trained hundreds of New York Attorneys.

8 years on the bench as Judge in the Town of Hector. 2011-2018

2018 Appointed Principal Court Attorney for Schuyler County Courts.

2019 Appointed Attorney Referee for the NYS District Six Judicial Courts.

2019 Appointed by NYS Bar Association President to the Committee on Rural Justice.

Has personally tried hundreds of Schuyler County cases including jury and bench trials in criminal, civil, family and Probate Matters.

Briefed and argued 17 successful Appeals in multiple appellate courts throughout New York State. Won 6 reversals of lower court decisions

Successfully proved the only known case of Wrongful Conviction in Schuyler County. Successfully obtained a reversal of wrongful conviction, dismissal of the charges and restitution to the wrongfully convicted person.

Schuyler County Youth Board (Current)

Vice President Schuyler County Bar Association (Current)
The Fitzsimmons Campaign Committee is Co-Chaired by former Schuyler County Legislator Bob Fitzsimmons and local veterinarian Dr. Kirk Peters.

Those accepting appointment to the Committee include:

John P. Callanan Jr.
David and Kate Lamoreaux
Paula Fitzsimmons
Marie Fitzsimmons
Paul E. Clifford
Damir and Theresa Lazaric
Testimonials
Jack Carter, NYS Supreme Court
Donate
Your donation means so much to us. Please help us elect Daniel Fitzsimmons!